Behavioral data collection
We use computerized tasks to collect behavioral data. A typical setup includes a PC that drives a secondary monitor to present visual stimuli. A chinrest is used to stabilize subject's head.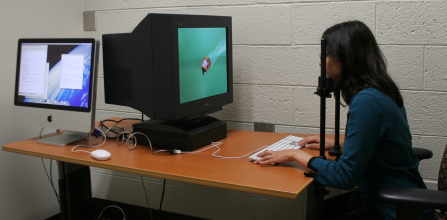 We have an EyeLink 1000 system for mornitoring subject's eye position. This is a desktop-mounted system that has high precision and fast sampling rate. The image below shows our previous eye tracker, an Eyelink II system.

Functional magnetic resonance imaging (fMRI) is performed on a research-dedicated 3T magnet (GE Signa) located in the Department of Radiology and supported by the Cognitive Imaging Research Center. The scanner is equipped with an 8-channel head array coil, systems for visual and auditory stimulus delivery, and button-boxes for response collection.


Transcranial Magnetic Stimulation (TMS)
Through a shared cognitive neuroscience lab, we now have access to neuronavigated TMS technology, via the Brainsight system from Rogue Research. This system allows delivery of TMS pulses to targeted brain areas based on individual subjects' brain anatomy.


Electroencephalography (EEG)
We have an EEG system from BrainVision (actiCHamp). The system is integrated with a stimulus generation and display system that allows for simultaneous recording of electrophysiological and behavioral data with precise time-locking.